Wickrematunge's murder rocked the entire country in January 2009, government ministers and other SLFPers were already jittery, privately blaming the government for its failure to stop a dangerous trend within the country. Some Opposition UNP crossers over were visibly angry at the government's failure to address the culture of impunity that had gripped the nation stating they had not crossed over to nurture this kind of break down of rule of law.
Body language
As the shocking news of Lasantha's murder reached parliament that Thursday morning on January 8, 2009 the corridors were filled with those decrying the deed as a foul and despicable act. Yet quickly the exigencies of political survival would kick in. Lasantha was a journalist who had a wide range of contacts from across the political divide. Albeit this wide circle of friends and acquaintances dotted in their hundreds in the national and international political milieu the body language of the ruling regime following his murder was uncomfortable and distant at best. Hardly any government minister save for a smattering of those UNP crossers over, felt it politically expedient to pay their last respects to a man who had stood up for the rights of all during his rich life.
But for the tremendous crowds that did come, the realisation was clear. That at no time before had they lived through more frightening times. From the spontaneity with which passers by joined the massive protest procession it was evident that at least in that moment of emotion, these massive crowds had joined for one shining moment the journey of one man. A colossus in his time. A man who had no fear.
Certainly if there was ever a time for the establishment to get rid of the nuisance that was Lasantha Wickrematunge, then this time was that time. The government was pushing forward on the military front capturing large swathes of territory while the LTTE retreated to the jungles of Mullaitivu. Drunk with power and buoyed by a wave of optimism over the war, Lasantha's murderers – whoever they maybe – could take false comfort in the knowledge that the current military successes could be effectively used to soften the impact of such an outrageous and high profile assassination.
Mahinda and Lasantha
Lasantha's fretful new relationship with the Rajapakse regime began in January 2006. President Rajapakse was never to forgive Lasantha for backing Opposition leader Ranil Wickremasinghe at the 2005 presidential election. Consequently Lasantha was to become one of the biggest irritants to Rajapakse's government. While still the prime minister in 2005, The Sunday Leader newspaper published a series of investigative articles written by me that exposed the Helping Hambantota scandal, in which millions of rupees donated to the government for tsunami relief had mysteriously found their way into a private bank account controlled by Mahinda Rajapakse. Shortly after those exposes, on 7 September 2005, we reported a suspected plot to attack us following a group of thugs entering our premises and taking down car numbers. Following this we lodged a complaint with the Cinnamon Gardens police, with copy to the Inspector General of Police. We received no reply. On November 17, 2005 The Sunday Leader printing press was attacked and severely damaged. The perpetrators of this crime were never brought to book and there was no serious police investigation.
It was in the second week of January 2006 that President Rajapakse revealed his true feelings towards Lasantha. On January 11, 2006 at 11.13am he was to call Lasantha on his mobile phone and threaten him over an article allegedly published that week in the newspapers.
"I will show you what it is to be scared. I will rest only once I have destroyed you. You wait and see. You don't know who Mahinda Rajapaksa is."
"I will finish you!"
"I treated you well all this while. Now I will destroy you. You don't know who Mahinda Rajapaksa is. You watch what I will do to you!"
Had these threats been made by an ordinary citizen, they would have been sufficiently serious as to warrant police inquiry. When
made by the President, Commander-in-Chief of the Armed Forces and Minister of Defence (and therefore the police), they attained an altogether more sinister significance. Lasantha wrote to the Inspector General of Police with copies to diplomats and other members of civil society requesting security – but of course in the Sri Lankan context this was too much to ask.
Indeed in the course of Lasantha's career as a journalist he had been the victim of physical assaults, shootings, and twice had his press attacked and burned down. On every occasion, the government was behind these attacks. There never was a serious police inquiry into any one of them, and no one was ever charged. He walked with death, and talked often with me about the likelihood of the government killing him. He was never afraid. He genuinely believed in his motto: unbowed and unafraid.
When in December 2008 the president's brother, Defence Secretary Gotabhaya Rajapaksa, went to court against his newspaper, Lasantha felt the groundwork was being laid for his murder. After all, why prosecute someone if you're planning on killing them? In fact, Lasantha told me he had told the president that he feared as much. It was not a secret that as part of the defence of this case Lasantha was planning to table in court a wealth of evidence of acts of corruption and other excess on the part of the government.
The government's complicity in his murder became even more evident after his death. The police inquiry has amounted to little more than an amateurish cover up of the evidence. They claimed Lasantha was shot, when witnesses say he was stabbed in the head with sharp rods. There was no exit wound. No bullets were found in his head. Neither was there evidence of any bullets or bullet holes in the car he was driving at the time. Yet, the government officially recorded the cause of death as "discharge of a firearm". This is a method of confusing evidence for which the Sri Lankan authorities have become famous. This way, even if the murderers are apprehended later (e.g. through a non-government investigation), the evidence is sufficiently confused to assure an acquittal."
"Perhaps the best evidence of complicity by the government is the web of lies and innuendo the government sought to introduce into its cover up of the crime. On the day of the murder the president went on national television to claim that Lasantha was murdered as the result of an international conspiracy. A few weeks later, the president's brother Gothabaya, asked about the investigation in a BBC television interview, giggled hysterically while asking "Who is Lasantha? Why is he so important? He was just someone writing to a tabloid!"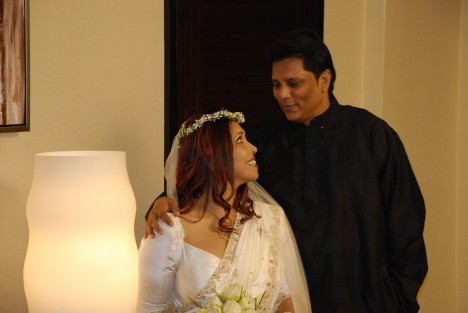 Lasantha's funeral held on January 12, 2009 was not attended by the entire government despite many of its members including President Rajapakse admittedly being closely associated with him. President Rajapakse would however send a wreath. Later I was asked by some organizing the protest march to hand over the wreath and the formal condolence message on that wreath so it could be burnt together with an effigy of President Rajapakse. There were loud cries of Satakaya, Ghathakaya in Sinhalese meaning the 'one who wears the shawl is the killer.'(President Rajapakse is famous for his saffron coloured shawl worn with traditional white garb)
A young Opposition politician knocked on my car window as I traveled behind the funeral procession insisting I hand over President Rajapakse's condolence message so it could be displayed and burnt. I refused. Hatred and whipping up crowd sentiment against Mahinda Rajapakse was furthest from my mind as I traveled behind my husband's remains. There is a grief that cannot be spoken, cannot be written, cannot be outwardly expressed. This was it.
Claims of Friendship
Immediately after Lasantha's death, Rajapakse went on every possible television channel to demonstrate his friendship to Lasantha. President Mahinda Rajapakse said he had been invited to Lasantha's wedding Reception on December 27, 2008 and had even invited the newlyweds to Temple Trees for a meal. By January 2008 we had decided to get married but due to our busy individual schedules dates kept changing from June 21, to August 28 to finally December 27 of that year.
The Christ Church Galle Face Registration book will bear witness to the several changes we made. We both had fulfilling careers and it was a year of intense travel especially for me. Journalism was under threat, we were constantly under pressure and our craft kept us ever busy and focused on everything other than the personal.
By this time we were also getting a sense of how much danger we were in because of our journalism. So intense were the threats that
we were compelled to finally cancel the church ceremony altogether. The Church ceremony would have been more public and therefore easily accessible to attackers. We reprinted invitations and settled for a very private reception with security provided not by security firms or unknown guards but by close family and trusted friends – who for our sakes and the safety of our 120 guests remained vigilant at all times to ensure nobody outside of a strict invitee list managed to get past the entrance.
Government politicians and government websites had branded us traitors even as we uncovered corruption in government and graft in military procurements. Lasantha and I had always maintained that the LTTE(Tamil Tigers) were a ruthless, bloodthirsty terrorist organization that had assassinated countless leaders including India's Rajiv Gandhi and had systematically eliminated the political leadership of the Sri Lankan Tamils and wiped out the entire moderate Sinhala majority leadership. They had prevented Tamils from voting in elections and had committed indiscriminate violence against civilians. They had to be wiped out militarily.
Lasantha's gand my grouse with the military solution was the colossal civilian cost. Any military conflict can be won if you use indiscriminate and unlimited violence against the other side. That is what happened in Hiroshima and Nagasaki. And that is also what happened in Sri Lanka. What Lasantha and I felt was that while it was important to eliminate the LTTE, it was important also to respect the lives of Tamil civilians.
However, by resorting to indiscriminate aerial bombardment and even treating civilian hospitals in LTTE-controlled areas as legitimate targets, the government itself was resorting to terrorism. And it is to that that we objected. He felt that had these targets been in majority Sinhala areas, it is inconceivable that the government would have bombed them. It was the huge civilian cost and the lack of any adherence to the rules of war that we were concerned about. It was the total lack of media freedom and the culture of impunity that alarmed us.
Informant
Be that as it may, one week after Lasantha was murdered that is on January 14th 2009, President Mahinda Rajapakse was to have a
meeting with media heads and publishers – especially convened to accuse the Sunday Leader Editor Lasantha Wickrematunge of being an informant. According to the President, Lasantha had told him that Minister Karu Jayasuriya was quitting the government and re joining the opposition UNP. Jayasuriya's crossing over back to his original political party was no secret. It was already being whispered about in Colombo's cocktail circuit. Lasantha had mentioned it in passing during an informal chat with Rajapakse in the presence of an ayurvedic doctor one Eliyantha White and a businessman called Passan Madanayake.
As for Lasantha's oft talked about meetings with President Rajapakse they were few and far between. It is true that Lasantha and Mahinda Rajapakse had been friends for over 20 years. But it was only some months before he was killed that the two had begun meeting again – and that too at the insistence of Rajapakse. Lasantha never went for the monthly editors meetings convened by the President's Office but for the last couple of months before his death he had visited the President's House for dinner. Lasantha was at first apprehensive about this Presidential call to a rapprochement but later decided he would go after a discussion with both me and another close friend of his in Colombo. The President had been making overtures in the early part of 2008 through both White and Madanayake who President Rajapakse had nominated as go betweens. Lasantha however opined that there may be a plot to kill him and wondered if the government was trying to get close to him for that reason. After all who would murder a friend and 'informant'? Even while he resumed his acquaintance with Mahinda, this thought was not far from his mind.
As for his oft talked about relationship with Mahinda Rajapakse, many years ago, Lasantha worked as private secretary to former
prime minister Sirimavo Bandaranaike – who was the world's first woman Prime Minister. During this time, he made many friends in Mrs.Bandaranaike's party, which is the one to which Mr. Rajapaksa has now become heir. Mrs. Bandaranaike's children, including Chandrika, who later became president, and Mr. Rajapaksa remained acquaintances of Lasantha's since, even though they continued to be targets of his pen whenever in his opinion they erred. Lasantha did not see a conflict between personal friendship and the need, as a journalist, to criticize people in public office.
During the 11 years of Mrs. Chandrika Kumaratunga's presidency, Mr. Rajapaksa was one of Lasantha's best sources in the cabinet. Eventually it became known even to the then president that Lasantha and Mahinda met early on Thursday mornings, one of them driving to the other's house for these trysts, following the Wednesday evening cabinet meetings. Mrs. Kumaratunga referred laughingly to a reporter in her cabinet, a snyde remark aimed at Mr Rajapakse.
Partly from having known them for so long, Lasantha was never deferential to these people, even when they reached high office. He continued to call them familiarly by their first names. Of course, Sri Lanka being so heirarchical a society, they may secretly have resented this. But there was nothing unusual in Lasantha meeting the president off-the-record on a frequent basis, for they had been doing this for years, in good times and bad. But Lasantha felt that with the president's siblings, things were not right. They were never associated publicly with Mr. Rajapakse, and suddenly came into the limelight when he became president. In fact, Gotabaya Rajapakse had emigrated to the United States and taken citizenship there and returned to Sri Lanka only to take up the post of Defence Secretary.
Oluwatada wedune?
Be that as it may, on the morning of Thursday, January 8,2009 President Rajapakse was busy with meetings at Temple Trees. At a meeting of four associations related to the coconut industry the President had been talking with key industrialists about the problems facing them in the present economic scenario. The meeting was attended by the Coconut Product Exporters Association, the Coir Products Association, the Horticultural Exporters' Association and the Poultry Association where representatives of these bodies were making presentations setting out the current problems facing exporters.
While the Coconut Product Association presentation was being made by its representatives Rajapakse was to get a phone call. He would listen attentively interjecting only once to say 'oluwatada wedune' before terminating the call. Immediately assuming the matter related to the military drive in the north and wondering if the President would be in a mood to continue with a coconut exporters' presentation the representative asked 'Can I continue Sir?' at which time Rajapakse told him to please continue his presentation.
In fact when a representative from the Poultry Association observed during the meeting that due to certain constraints they were better off doing business in Singapore, Rajapakse was to say jokingly 'then we should send you to Singapore.' However when it was time to ask questions President Rajapakse had told those present, 'I'm hungry, aren't you'll hungry let's go out and eat.'
Those at the meeting and President Rajapakse then went out of the meeting room to the Temple Trees dining room to partake of presidential victuals. Having escorted the attendees outside, Rajapakse was to go into his office and they were informed the meeting was over. It was only when the representatives of the Coconut Exporters Associations had come out of Temple Trees and collected their confiscated mobile phones that they realised Lasantha Wickrematunge had been fatally attacked.
That was not the only meeting President Rajapakse would attend that morning. He was also scheduled to meet with bankers and representatives of small and medium industries which he would do. Again Rajapakse was seen to receive two calls which he answered and then continued with the meeting at hand.
Eliyantha White
Doctors attending to Lasantha at the Kalubowila hospital reveal that at the time Lasantha was brought into the OPD that Thursday morning his pulse was a low 43, he had dilated pupils and his right ear was oozing blood. It was some time after crack medical teams had started to work on Lasantha that Dr. Eliyantha White walked in to the hospital. He informed me that Lasantha had in fact called him that morning on his way to office to tell him that he was being followed and had asked him to contact President Rajapakse.
White was supposedly a herbal medicine man somewhat well regarded among certain politicians and also President Rajapakse. White told me that he had immediately called the President but the President had been otherwise occupied in the Budu Ge (Shrine Room) for about 45 minutes. When the President returned his call, Eliyantha told me, 'The deed had already been done.'
However it seems clear that the President was not in fact in the shrine room but at the above-mentioned Coconut Industry meeting and had in fact received a call while at that meeting.
Injury
Meanwhile Lasantha was in the Emergency Unit of the Kalubowila Hospital with an injury to his head. We already know from eyewitness accounts that his car was surrounded by assailants on four black motorbikes. We know that the windows of both the driver's and the passenger side had been smashed. We know that a witness had allegedly seen one of the assailants on the passenger side of the car pulling out a weapon of sorts – likely a heavy metal pole wrapped in a newspaper and smashing it into the head of Lasantha. Lasantha according to police sources may have fallen onto the passenger seat sideways when he was attacked from the drivers' side of the car.
Base of skull fracture
From the injury on the skull doctors say the pole may have had at its lethal end two sharp points driven into it. Lasantha also suffered a base of skull fracture due to pressure from within. Police sources said at the time that two noises were heard during the attack but they did not sound like gunshots.
Conspiracies
Government elements like the JHU – the party of monks – also put forward absurd claims of CIA conspiracies relating to the murder. There was also speculation of a link between the pre dawn attack on January 6, 2009 (two days before Lasantha as killed) on the MTV/MBC studio in Pannipitiya and the assassination of Lasantha.
Politicising investigations
The Government at the time had also called for the files of Richard de Zoysa and other journalists killed during the UNP era to use in a political debate over the killing of Lasantha rather than focus on bringing the culprits to book. This was confirmed in December 2009 when I was approached via email and skype phone by a Sri Lankan diplomat purporting to speak on behalf of Mahinda Rajapakse who mentioned that it was now time to investigate the murder of Lasantha. The absurdity of this ridiculous and sudden desire to investigate a murder that had taken place 11 months before aside, I replied that it was time to investigate the murder of Lasantha no sooner than he was killed 11 months before and pointed out that this sudden desire to bring the matter up seemed nothing more than a political move during the Presidential election of 2010. I also reminded this Sri Lankan Ambassador that I had already written at length to both the Inspector General of Police and to President Mahinda Rajapakse urging them both to commence a proper investigation into my husband's murder. The Sri Lankan Ambassador then brought up the Richard De Soysa killing making outrageous claims that Soysa was not killed by government forces. It became obvious that the government would now try to make outrageous claims regarding Lasantha's murder also to hide the true facts.
And if Lasantha lay bleeding on a hospital table January 8 morning in 2009, the government was busy trying to hush it up. Minister Dulles Alahapperuma was to call up some media houses and advise them to lie low on the issue. That evening on the Rathu Ira programme UNP MP Jayalath Jayawardena, a guest on the show was asked by one of the producers to not touch on the slaying of Lasantha Wickrematunge but to stick to the agreed subject of provincial council elections. The main evening news bulletin of the government owned Independent Television Network made no mention of the killing of Lasantha on Thursday night even though it was obviously the top story of the day. The other state media barely made mention of it merely using it as a filler at best.
With national and international support pouring in for the Editor the government resorted to desperate damage control. President Rajapakse on hearing the Editors were planning to carry a common lead story on the assassination was to even call the Sunday Times Chairman Ranjith Wijewardena on the matter to have it stopped. But the news of Lasantha's murder was unstoppable.
Today, two and a half years after Lasantha Wickrematunge was murdered no effective investigation has taken place. No one has been prosecuted. His stalled murder investigation has become emblematic of the culture of impunity that now prevails in Sri Lanka.
Photos: All rights reserved
36 Comments to ""I will destroy you" – President Rajapakse"
Post comment
You must be logged in to post a comment.