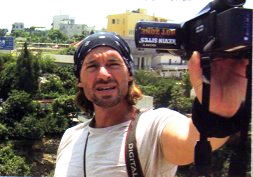 ARUGAM BAY, SRI LANKA | JUNE 10, 2006
"Sri Lanka, I have seen, is a nation embarrassingly rich in man-made and natural resources, including historic religious monuments, pristine rain forests, white-sand beaches, prized tea plantations, rubber trees, sugar cane,rice and a climate where fruits and vegetables seem to grow with little coaxing or effort"
CHECKPOINTS
We arrive in Arugam Bay in the late afternoon after a ten-hour drive from Kilinochchi. It is not the distance but the checkpoints that suck your time. Since we were in Eelam, rebel Tamil Tiger–controlled territory, we had to
pass through both Tiger and Sri Lankan government border control. My translator, Sarath, and driver, Rodney, both agree with me that the Tigers seemed more efficient.
It is overcast and drizzly when we check into the Siam View Inn, a little surfer hotel still in the rebuilding phase after the 2004 tsunami. It is owned by a German named Manfred.
There is a bit of daylight left , and it looks to me like the afternoon down-pour has ended. I pull on my shorts, walk to a nearby shop, and rent a six-foot, seven- inch tri-fin board, which for my size and modest surfing ability is like a potato chip, too short and not buoyant enough. Growing up in Ohio,I know by nature I am not supposed to surf, but I fell in love with the sport when I worked in Florida during my first job in television news.
PADDLING OUT
Since that time, I have surfed infrequently enough to never be mistaken for good, but I am, in the vernacular of the sport, not quite a "barney," either. But whether I catch ten waves or none, just paddling out always takes my
mind off my worries and puts me firmly in the moment. Now, after nine months of conflict coverage, I need this day-and- a-half break to play in the waves.
Arugam Bay is the place where local fishermen ply the same waters as intrepid surfers from Australia, Japan and Europe. It is a wonderful secret spot for surfers; a right point break can carry you into next week, if you are lucky enough to outpaddle the other fifty hard chargers gunning for the same peak.
DOUBLE WHAMMY
Arugam Bay has been hit, however, with a double whammy of bad luck; the continuing violence between Sri Lankan government forces and the Tamil Tiger rebels—and the 2004 tsunami. According to official statistics, more than thirty- fi ve thousand Sri Lankans were killed by the tsunami, most of them on this eastern coast of the island, where almost no one was untouched by the tragedy. More than a year later, thousands are still living rudimentary existences in thatched houses without water or electricity.
Businesses like the Siam View struggled to rebuild in the tsunami's aftermath, but ongoing violence continues to set them back. Last April, the Tigers tried to kill the Sri Lanka army chief in Colombo, Lieutenant General Sarath Fonseka, by sending a female suicide bomber or "Black Tigress." The attempt only injured Fonseka—but likely killed any hopes for rekindling the tourist trade in Arugam Bay.
"Sixty people canceled on me after that," says K. M. Rifei, one of the managers at the Siam View Inn. "They were from all over the world, too: Germany, England, Australia."
Rifei is troubled by the developments, but he has seen enough tragedy in his life that his emotional range seems wisely shifted to neutral. Rifei says he lost seventeen members of his family in tsunami, including his one-and-a-half-year-old son.
"When the tsunami hit," he tells me as we sit on the deck of a restaurant overlooking the beach, "my family was all in the water, including my son."
I feel somewhat circumspect that I am about to frolic along the same shoreline where so many lost their lives, but I also know it will take tourists like me staying in local hotels, eating at local restaurants and spending money at local surf shops to revitalize the area.
RIPTIDE
When I reach the spot, a sand-and-rock break at the south end of the bay, there are still about twenty surfers in the water, even though it is beginning to get dark. I am eager to paddle out and don't take a lot of time to read the waves. This will be my first mistake. When I do get out into the water, I realize there is a very strong riptide that begins to carry me farther out to sea. I also discover that, because of the way the peninsula juts out into the bay, the waves are breaking parallel to the shore rather than against it. They begin to build near the beach, pushing out into open water and breaking over the shallows about fifty feet from shore. To catch one, surfers need to enter the lineup close to the sandy tip of the shoreline. Quickly, I see that I'm in exactly the wrong place. I struggle to paddle back in, but the rip makes it almost impossible; instead I have to paddle, and the current takes me down shore about a hundred yards.
I emerge on the sand fifteen minutes later, sucking air, my arms rubbery from paddling. Since I haven't been surfing for at least a year, my body is hardly used to this kind of exertion.
IMPACT ZONE
Determined, I walk up the sand and enter the water closer to the break. It is now past dusk and heading fast into twilight. Since the lineup of surfers has thinned out, I know I'll get my chance. The waves seem to be getting bigger, and I notice they are steep-shouldered and closing out hard into frothy white foam. I see one building on the outside, paddle toward it, then turn tail and stroke hard to stay in front of its building face.
But I am too heavy on my potato chip and haven't picked up enough speed. The wave is beginning to crest and I feel the back of my board being pulled up with it. It is not a good position. I know in a moment that rather than smoothly sliding down the face of the wave, it will toss me ass over end into the froth—which it promptly does. I am getting worked, tumbling over and over, my leg leash tugging furiously as the board gets sucked into and out of the wash. The embarrassment would be enough by itself, but I also find some rocks at the bottom as well.
When I try to get out of the impact zone, I'm smacked head-on with another wave that drags me across the jagged rocks in the shallows. I feel like I've just been thrown from a motorcycle and I'm sliding down a swatch of pebbly sandpaper. I finally get to my feet and wade to shore. Both my legs are cut and bleeding, as well as my palms from pushing up against the rocky bottom. I put the board under my arm and limp back to the hotel. The only upside of this session is that it is too dark for anyone to see my cuts or my humiliation.
SINHALESE VERSUS TAMIL
Ethnic tensions between Sri Lanka's Buddhist Sinhalese majority and Hindu Tamil minority have alternately simmered and boiled since the time of Sri Lanka's independence from Britain in 1948.
Sarath and Rodney are both Sinhalese, but Rodney grew up with Tamils in his neighborhood and speaks both Sinhalese and Tamil.They tell me that Sinhalese and Tamil people live in the same neighborhoods all over Sri Lanka without conflict.
"It is only in the north that things are bad," Sarath says.
They tell me they believe the Tigers' leader, a shadowy figure named Velupillai Pirapaharan, who is rarely seen except in photographs and posters throughout Tiger-controlled territory, is the instigator of the violence.
The Tamil Tigers or LTTE (Liberation Tigers of Tamil Eelam) were formed in 1976 and began fighting for a separate homeland for the Tamils. From the very beginning, they have been a determined, and at times ruthless, rebel force.
BLACK TIGERS
The Tigers have an estimated ten thousand fighters and are legendary for the practice of wearing cyanide capsules around their necks and vowing never to be taken alive. They also have their own navy, which sometimes uses suicide swift boats to ram Sri Lankan ships.
That controversial tactic, the use of suicide bombers or "Black Tigers," has put them on the European Union's list of terrorist groups. But the Tigers claim that it is the Tamil civilians who have been terrorized, routinely murdered by government security forces and paramilitaries in their rural villages.
THE COST
Nearly sixty thousand people have died in the conflict, but in 2002 it seemed to reach a turning point when the Tigers and the government signed a ceasefire agreement. The agreement gave the Tigers at least a partial taste of independence,as government forces withdrew from northern Tamil population centers, allowing the Tigers to create their own semiautonomous state,Tamil Eelam, which simply means homeland.
Within their area of control, they have their own uniformed border patrol, customs agents, police department, courts and even uniformed motorcycle traffic cops with Tamil Tiger shoulder patches. The region also has its own newspapers, culture magazines, radio and television studios.
The city of Kilinochchi, the de facto capital of Tamil Eelam, has also been noted in foreign travel guides for its preponderance of memorials to dead Tigers, including a statue to its first female suicide bomber. Just outside the city there is also a cemetery with row after row of identical black marble headstones, nearly two thousand graves, ground reserved for Tamils who have died for the cause.
INSIDE TAMIL EELAM
Sarath and Rodney have never stayed inside Tamil Eelam overnight but agree to go with me. Getting inside is like entering a foreign country. Our bags are unloaded and thoroughly checked by Sri Lankan Border Patrol agents. We fill out paperwork, show our passports to officials, then our van is reloaded with our bags and we drive a quarter mile through a neutral zone administered by the International Red Cross. At the end of the neutral zone, we're in Tiger- controlled territory, where we go through the entire process again.
Once through the checkpoints, we locate the Tigers' media relations office and meet their official spokesman, a former science teacher from the Jaffna peninsula who identifies himself only as Thaya Master. He tells me the cease-fire is still in place for now, but is shaky at best.
"The government says they want peace, they're ready to talk peace but their actions are different," he says. "They want to solve the problem but there's no normalcy. Stopping the killing would help with bringing back normalcy."
TIGER CADRES
The next day Master arranges for me to interview four Tiger cadres, two men and two women all dressed in the distinctive tiger-stripe camouflage.Since Rodney speaks Tamil, I want him to translate, but they know he is
Sinhalese and refuse.
They want to use their own translator and ask Sarath and Rodney to wait outside during the interview. It is not an ideal situation for me, but there will be no interview otherwise. The Tigers can be very media- hy, preferring to use Tamil.net, their Internet news service, and their own television and radio stations to get their message out.
THE INTERVIEW
The four cadres sit on a couch together with me on the opposite side, video-taping our discussion. I ask what prompted them to join the Tigers. They all tell similar stories of home villages being bombed by the Sri Lankan government; friends and family being killed.
Vikneswaran Malathi, a twenty-eight- year-old female officer, has served the longest of the four, eleven years, joining the Tigers when she was just seventeen. She has also paid the highest personal price, by losing her leg in battle with Sri Lankan forces.The Tigers have a history of recruiting and using women in combat, but the men and women are separated by gender, with male officers leading male soldiers and female officers leading female soldiers.
LOSING A LEG
"In 1995, I was a section leader of fifteen soldiers during an offensive by the Sri Lankan army to retake the Jaffna peninsula," Malathi tells me. "After landing onshore in an amphibious mission, we fought and advanced for three days up to Palai. On the third day we had stiff resistance and there was artillery fire. An artillery shell landed behind me. It wounded two of my soldiers and knocked me down. I tried to get up but I couldn't stand. I called for support and medics came and carried me back to a field hospital. My right leg, which had been wounded three times before, was hit again with shell fragments. This time—it had to be amputated."
She shrugs it off, as if it were just a couple of stitches.
BLACK TIGER MISSION
"You are also known for your use of suicide bombers, 'Black Tigers,' " I say to all of them. "Would all of you accept a Black Tiger mission if asked?"
"It's not a tradition to be asked to be a Black Tiger," says Aganalagan Veluppilla, a thirty-four-year-old male cadre. "You have to volunteer."
"Well, would you volunteer for a Black Tiger mission?"
"The future will tell us if this is necessary," says Malathi, referring to whether the cease-fire will hold or not.
I want to examine the issue more deeply. "Let me pose a very important question on that point," I say. "While the use of suicide bombers may bring about some kind of tactical advantage for you—aren't you concerned that it's actually backfiring in the court of world opinion? The European Union recently labeled the LTTE [Tamil Tigers] a terrorist organization, in part because of your use of suicide bombers. Now, instead of a rebel army with legitimate concerns, you've been lumped in with the likes of Al Qaeda.
Doesn't that hurt your cause?"
"Yes, it hurts, but branding us terrorists is not justified," says twenty-eight-year-old Kumaran Sipathasundaram, who tells me he joined the Tigers eight years ago, after his village was bombed. "It is the responsibility of the people to determine whether someone is a terrorist or a freedom fighter.
Every Black Tiger attack was aimed at military targets to help maintain a balance of power. It's part of a military action.It's not against civilians—so it's not terrorism."
After my interview, we walk outside and I continue talking with them,trying to get them to speak with me more casually, but it is not likely with their commanders watching and listening to everything they say. The Tiger cadres do laugh and joke around with one another as they
drift away from my camera and me. Less guarded, they seem almost like goofy teenagers, as if suicide and cyanide were the furthest things from their minds, as if they weren't part of this deadly conflict at all.
The very next day there is a bus attack in a predominantly Sinhalese community. Sixty-four people are killed, many of them children. It is the deadliest attack on civilians since the cease-fire began. The Tigers are blamed for the incident but deny any involvement. A few days later, there is a land and sea battle between the Tigers and government forces. Thirty people are killed, but both sides say they will hold to the cease- fire,wobbly as it may be.
RECKLESS CHOICES
Back at the Siam View Inn, I have tended to my cuts and am eating a bowl of noodles on the veranda, looking at the ocean. As I swat away flies and mosquitoes, I consider the apt lesson Sri Lanka has just taught me: reckless choices can squander the beauty and potential of a place. Sri Lanka, I have seen, is a nation embarrassingly rich in man-made and natural resources, including historic religious monuments, pristine rain forests, white-sand beaches, prized tea plantations, rubber trees, sugar cane, rice and a climate where fruits and vegetables seem to grow with little coaxing or effort.
And here, though it is not completely trouble-free, humans seem to co-habitate more peacefully with the wide array of animals such as egrets,storks, leopards and elephants than they do with one another.
The potential value of all these resources, which could help turn a peaceful Sri Lanka into a powerful regional economy as well as an irresistible tourist destination, dramatically improving the lives of the population, has been undercut by the stuttering conflict between the Tigers and the government. It is a conflict that lives in that no-man's-land of "cease- fire," not really war but not really peace, either. Without a resolute effort by both sides to get the peace process back on track, and without greater involvement by the international community, the only potential that Sri Lanka will fulfill is the promise of renewed and bloody civil war.
The next day, wiser from my cuts and bruises, I paddle out into the lineup. I wait my turn patiently, see my opportunity, turn stroke and lift myself onto my board. I make the drop down the face of the wave and ride it as it unfurls its way out to the sea. When it's over, I drop into the water and smile to myself while I paddle back into the lineup. I want it to signify something more, but I know it was just a nice ride; a small peaceful moment in a beautiful place.
(excerpted from In the Hot Zone – one man, one year, twenty wars by Kevin Sites. Used with permission from Harper Perennial)
Kevin Sites helped pioneer solo journalism and has covered global war and disasters for several American networks including NBC, ABC and CNN. He has reported from some of the world's most dangerous places and was the recipient of the Daniel Pearl Award for Courage and Integrity in Journalism in 2006 and a former Nieman Fellow at Harvard University