For Sri Lanka's asylum seekers Christmas is yet to come
"Had there been even one Sinhala family living in this village, the government and their representatives would have provided us with atleast the basic facilities, but since this is a minority area we are ignored" – Residents 
Reporting from Udappuwa
Despite the end of the war over three years ago the minorities in rural Sri Lanka still do not feel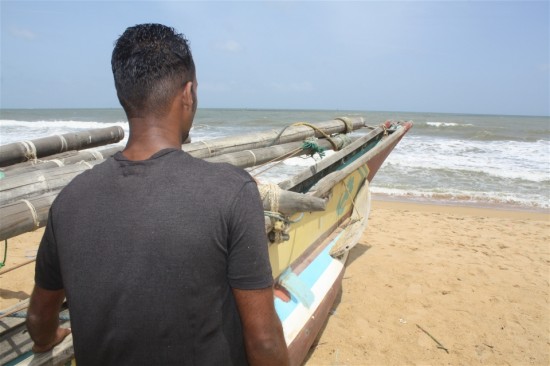 the dividends of peace. The guns may have halted, but steeped in poverty and with no hope for the future under a Rajapakse regime that has disappointed them time and time again, they run towards the western lights at the end of their tunnel.
Even as western countries are facing internal pressure to  close borders and take a tougher stand against illegal migration, human trafficking is at an all time high with traffickers finding more than enough custom among disgruntled youth in Sri Lanka especially among the minority communities.
The presence of Australian Federal Police personnel on the island, there to work in collaboration  with the Sri Lankan government, to prevent the exodus to Australia has had only a middling effect. Other  government imposed restrictions have not worked either.
Udappuwa the forgotten hamlet – from where everybody wants to leave 
Some five kilometres off  Chilaw-Puttalam road is a predominantly Tamil hamlet – Udappuwa.  A tiny forgotten hamlet with about 2500 families of which 15 are Muslim. Mostly fisher folk these families are struggling to survive.
"Had there been even one Sinhala family living in this village, the government and their representatives would have provided us with at least the basic facilities, but since this is a minority area we are ignored" residents said.
For the Tamil youth in the village, each day they spend plotting about how to escape this life of poverty, is a day spent towards fulfilling their dream. And so at night in their beds they lie awake thinking, scheming, plotting and preparing and in the morning they sell every material thing they own to buy themselves a fair shot at life. They always find a 'way' hazardous though it is to leave the country and seek asylum in western countries – Illegally. A harsh word that. "Illegally'.
For these youths there are no job opportunities available in the village and the neighbouring villages shun them and refuse their service simply because they are Tamils.
Would Santa come early for Raju on Christmas Island
Raju is a fisherman  in Udappuwa. He has no job and the harsh weather decreed that he went out to sea no more than five months in a year. He had often thought of leaving, but how? And then he met an agent or was it an agent's representative. They spoke and then they spoke again. They gave him hope. They talked of leaving on a boat to Australia or Canada or some European country. He didn't care where. His heart beat fast. I need to do this he thought. nothing was ever achieved by being cowardly.
Neither were these representatives of the 'agent' being unreasonable. They wanted his family to pay the organisers rupees three lakhs when the boat crossed Sri Lanka's waters and another five lakhs only after he obtained a job. Details were threshed out. Raju's heart was in his mouth. He was sweating. But he felt good. He was on an adrenalin high.
He realised he was one of forty others from Udappuwa who were also chasing a dream. The agent had asked them to get ready to go to Christmas Island and wanted our families to pay their representatives Rs.3 lakhs each, once we cross the Sri Lankan waters.
So on June 17, 2012 he woke up early. Actually he had hardly slept. He took a small bag of belongings and made his way to the Chilaw post office getting there at sharp 7am. That is what the agent had told him. Be on time. When he got there a bus was waiting. Hired by the agents. He recognised some people. Later he would come to know that seven youths had come from  from Chilaw, 2 from Mullaitivu and two had come from India as well. They were prepped on how to answer any inconvenient questions at possible military check points. "say you are all going to Trincomalee on a Trip' they were told.
Indeed the bus travelled to Trincomalee and from there to Pottuvil it was a long drive but Christmas island sounded so promising. May be they called it Christmas island because everything was like Christmas there.
On their way to Pottuvil they were told to tell the security forces that they were on a pilgrimage to Kataragama but thankfully no one asked.
Raju got off the bus in the thick jungles of Pottuvil and clutching his belongings walked to a small fishing village nearby. They had been traveling for over 24 hours. At about 8pm on June 18 he saw three small boats waiting to take him and his fellow dreamers to the mid seas where a trawler was waiting for them to start their journey to Australia. Raju climbed out of the boat still clutching his small bag and climbed into the trawler. And then the retching started.
Around him over 40 people were being sea sick. They were throwing out and running to the cabins below deck to to lie down. Raju was happy. The trawler was speeding and he felt good. The Sri Lanka Navy can't catch us now he thought.
At midnight he noticed a small vessel approaching and he shivered a little. But as it got closer he realised it was a large ship which merely passed by harmlessly. A little later he saw the light of what he detected as a tiny boat. Could this be just another ship that would pass in the night like the one before? But the seamen were wary. They told Raju and the rest of the asylum seekers to retire below deck immediately and to stay there.
It was a Navy boat. Raju now packed like sardines with the others in the hold heard voices on deck as the Navy officials talked with the navigator and his assistants. He heard the navigator tell the navy officers that the trawler had engine trouble and was waiting for assistance from yet another fishing trawler in close proximity. Satisfied with this explanation the navy officer was about to leave the trawler when his boot snagged on a metal flap. As it opened Raju saw a sliver of light shine down on him. The jig was up.
Raju's words
"More than seven months of the year we cannot go to sea due to the strong winds. We have been cut off from rest of the country and are a forgotten segment. All our bordering villages are either Sinhala or Muslim. None of them want to give even a daily paid job to us because we are Tamils. How do we get away from this cycle. There is no other way but to leave to a foreign country looking for opportunity and a better life. " said Raju.
Raju was one of the members of a failed group of 51 who were arrested in mid seas within Sri Lankan waters whilst trying to go to Australia in a trawler three months ago.
Refuting the government's claim that peace and stability have been brought into the lives of the minorities, these youth in Udappuwa claim that the government has failed to bring stability to their lives.
These youths believe that they have been marginalized because of their ethnicity and without having any other options to make a living; they still prefer to take a' deadly risk' to go to Australia. Although many have been able to cross the Sri Lankan waters without any issue, there are over 50 youth in Udappuwa who could not accomplish their long standing dreams.
According to Raju, despite Sri Lanka Navy's (SLN) tremendous effort to tighten the coastal security to prevent human trafficking trade which they believe as one of the largest rackets in the country, the SLN have still failed to combat it.
"Why do they try to prevent the youth from going to another country seeking asylum if they do not have any solution to look after the people in this country. It is unfair for them to categorize us. Whether Tamils, Muslims or Burghers we are Sri Lankans. According to this government, it is the Tamil diaspora that have created an ideology amongst the western nations that minority Tamils are not treated properly in Sri Lanka and although the three decade war is now over, still the Tamils are into trafficking for their personal benefits. It is unfair to leveled allegations as such. We have been sidelined by the respective governments and our local and national representatives. That is why we have had to take deadly risks to enter another country illegally," claimed Raju.
Describing how his 'unforgettable' failed attempt to go out of the country illegally, Raju added that had the Navy failed to open the underground entry flap, all the 51 youths would have gone to Christmas Island by now.
According to Raju, although they had several rounds of discussions with some representatives of the agents, they have never met or seen who these agents were that had come to help them out.
Raju was thankful to the SLN officers for not taking the law unto their hands and for treating the illegal migrants the best possible way they could until they were brought to the Hambantota Mahinda Rajapaksa Port.
"When they saw us in hiding, we were ordered to come out immediately. One SLN Officer whom I think a high ranker wanted his officers not to harass us and to talk nicely to us. When they started questioning us as to who our agent was and how much money we have paid them, I said that I have not paid a single cent by that time but would be paying after entering Australia. They thought that I was the agent. When they started questioning the rest and realizing the agent has not obtained any money from all of us they took us ashore and the CID who was waiting for us at the port took statements from each of us and released," added Raju.
Raju said that he doesn't know the fate of the navigator, his three assistants and the three workers in the trawler.
"They too may have been arrested for human trafficking. The CID filed cases in the Hambantota magistrates court and we have to appear when our case is taken up. Last Tuesday we had to go to Hambantota and does not know as to how long we will have to go there spending money. It is very difficult for us to find money to go to Hambantota at a time when we do not have any livelihood. This time of the year we cannot go to sea as well. We are undergoing a difficult time. Surprisingly our local representatives too have failed to address our issues," said Raju.
Indrapalan's story
'Meanwhile Indrapalan described as to how his two sons left the country seeking asylum in UK and Australia.
"My elder son went to Italy and from there to UK a few years back. Since there were no such strict restrictions he was able oto go without any issue, but the second son took a risky decision to go to Australia three months back. He and his team was successful and did not get caught to the SLN despite the tough security net to catch the illegal migrants," said Indrapalan.
Indrapalan too said that neither he nor his son knew who the agent as as they never came to the forefront but got the work through their representatives.
"These agents live in hotels in Negombo. What we came to know was that one agent books three to four rooms in different hotels where no one knows where he stays. That is how they operate these journeys," said Indrapalan.
According to Indrapalan, although his son has safely landed in Christmas Island, they are now being grilled by the Australian officials.
"We were told that they are now being questioned. It is the God above that knows whether they will be sent back or whether they will granted asylum on sympathetic grounds," added Indrapalan.
"It was two of his friends that have told about the trip to my son. He was asked to pay Rs. 5 lakhs initially and Rs.3 lakhs after he lands the Christmas Island. We paid the initial deposit and then our children were asked to come to Negombo. We too hired a van and went with them to Negombo. About 1km away from where they were supposed to get into the boats, we were turned back by the representatives. Later they were able to go safely. Once they landed we had to pay the rest to the representatives at Negombo," he added.
According to Indrapalan, he was lucky enough to had money to pay the agents Rs.8 lakhs.
"My wife had to sell some of her jewellery to pay this money. When I was asked to the money after my son landed Christmas Island, I was instructed to bring the money to a certain place in Negombo. When I went to this place, there were no one to collect the money. Then I had to call one of their representatives. I was directed to go to another place and a man wearing a helmet came and took the money and went. He was wearing the helmet to cover his face," said Indrapalan.
Human Rights