It is not surprising that Sri Lanka's politicians use government property and state land as if it were their own. Sri Lanka's ruling family -the Rajapakses have done so for years.
Land rapes
The latest in a series of land rapes by the present regime is at the Kalawewa and Balaluwewa tanks in the Anuradhapura district and its surrounding Kahalla- Pallekele sanctuary. These beauteous surroundings have now become the private property of the North Central Province politicians of the ruling party.
Sinharaja and Namal
Last year the Lanka Standard investigated the proposed illegal construction of a road brutally slicing through one of Sri Lanka's World Heritage Sites masterminded by President Mahinda Rajapakse's eldest son Namal Rajapakse.
Sponsors of that illegal construction told this website last year they had obtained Road Development Authority approval – a government body coming under the direct supervision of President Mahinda Rajapake who is also the Minister for Road Development and Highways.
Destruction of endemic species
That  8 km stretch of asphalt slicing through Sri Lanka's Sinharaja rain forest was to  facilitate
easy access to another one of the Rajapakse heir apparent's projects, a luxury hotel in the middle of the virgin forest, which scientist said was certain to destroy endemic species and disturb many rare communities of fauna and flora.
Berty Premalal and Company and the land grabs
Now two ruling party stalwarts former Chief Minister North Central Province Berty Premalal Dissanayake and the former Agrarian Services and Wildlife Minister S.M. Chandrasena are
grabbing lands in Kahalle- Pallekele sanctuary to construct hotels and/or residencies  overlooking Kalawewa and Balaluwewa tanks.
Everyone's on the gravy train
No one can fault their taste and sense of a great location but these politicians have come under severe criticism not only for grabbing these state lands for personal benefit, but also for allowing their political stooges to make money from this wildlife department owned property.
Berty Premalal and his family are no strangers to controversy.His son Duminda Dissanayake, a
government minister, used his influence to avoid criminal charges after being found with a leopard skin in his residence.
This website published an investigation in July last year into the illegal actions of Duminda Dissanayake, then Minister of Youth Affairs and Skills Development who is highly connected given he is not only the son of the then Chief Minister of the North Central Province Berty Premalal Dissanayake but also the son in law of Sri Lanka's Prime Minister D.M.Jayaratne. I June last year Dissanayake was found in possession of a leopard skin during a raid by wild life officials on his luxury residence at Havelock road.
In a country that is unbelievably politicised and where impunity reigns supreme such connections give the politicians a lot of wriggle room and they take full advantage of it.
Endangered
The Sri Lankan leopard is an endangered species and a strictly protected animal under the law. In a country that has seen a lot of ugly in the recent past its wildlife is one of the more beauteous aspects. But the leopard population is declining due to numerous threats including poaching for trade and human-leopard conflicts.
Be that as it may it would seem the fruit does not fall far from the tree and it is now his father who is alleged to have broken the law.
Declared a sanctuary – yet sand mining rampant
Kahalla- Pallekelle was declared as a sanctuary on July 1, 1989 and is 21, 690 hectares in
extent. The Kalawewa and Balaluwewa tanks are situated within this sanctuary but during the dry season, with the blessings of the politicians their stooges engage in illegal sand mining as well.
Environmentalists and the villagers in and around Kalawewa grumble that wildlife officials turn a blind eye and allow those who have destroyed the sanctuary to carry out construction work. However they were grateful that the wildlife officials have attempted and many times succeeded in preventing these political stooges from engaging in sand mining in Kalawewa and Balaluwewa when the tanks dry up.
The laws are never adhered to
According to section 7 of the Fauna and Flora Protection Ordinance (amended) No: 22 of 2009, it is an offence to destroy wildlife habitat places and breeding grounds, destroy trees or to carry
out any road or other permanent or temporary constructions within a sanctuary.
"Apart from the Fauna and Flora Protection Ordinance rules and regulations, the gazette notification No: 859/ 14 of February 23, 1995 in accordance with the National Environmental Ordinance it is an offence not only to carry out any development work within a sanctuary or 100 meters radius from the sanctuary boundary, but also is prohibited to any development work within a tank or 100 meters radius from the maximum overflow area without an Environmental Impact Assessment (EIA) study," Director Environmental Conservation Trust Sajeewa Chamikara told Lanka Standard.
Dissanayake's proposed hotel abandoned due to pressure
"If the Department of Wildlife Conservation (DWC) and the Central Environmental Authority is
turning a blind eye to all these illegal constructions due to political pressure to whom have the environmental lovers to complain about these issues. We are clueless. The DWC says that the area where Dissanayake has constructed a four storied structure for a hotel which is now abandoned due to the continued pressure applied by us does not belongs to the sanctuary. According to them, this land is part of the fishing village. It is surprising that they do not know that the fishing village too falls well within the sanctuary," claimed Chamikara.
Mahinda Rajapakse and the fishing village
According to Chamikara, it was during President Chandrika Bandaranayake's tenure, on the
recommendation of the then Fisheries Minister Mahinda Rajapaksa a cabinet approval was granted to separate 50 acres of sanctuary lands for a fishing village.
Hotel construction within sanctuary
"This area was gazetted in 1989 and declared a sanctuary; no one has the power to give away sanctuary lands to anyone based on their whims and fancies. If there was such a cabinet paper, the 1989 gazette notification has to be de-gazetted before allocating the land for a fishing village which has not happened so far. Hence how could the DWC officials claim that this land in which Dissanayake has constructed a building is not within the sanctuary," asked Chamikara.
Although Dissanayake stopped the construction work on this four storey building some years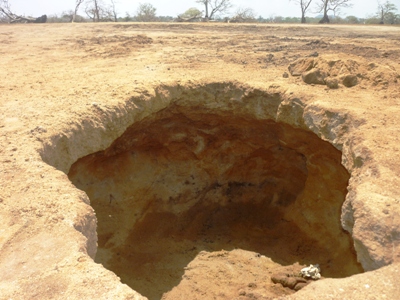 ago, questions are being raised as to why a road is currently being constructed from the Kalawewa tank to the main road through Dissanayake's 'property'. Is this in preparation for the hotel on which construction could be restarted at any time?
Fisherman speaks out 
"It is the normal practice to construct a road from the main road towards interior but not from interior to the main road. This is now happening here. We were given lands in early 1990s and constructed our house in mid 90s. Although we made several requests for a proper road network connecting us to the Ihalagama- Kalawewa main road it never happened. But all of a sudden just before the provincial council elections, construction work for a road started. This was started from the Kalawewa tank towards the village and goes through the former Chief Minister's land," said one fisherman who did not wish to reveal his identity.
Berty Premalal denies some allegations and admits to others 
However refuting allegations, former Chief Minister Dissanayake denied his involvement to this building but added that it is belonged to one of his very close relatives declining however to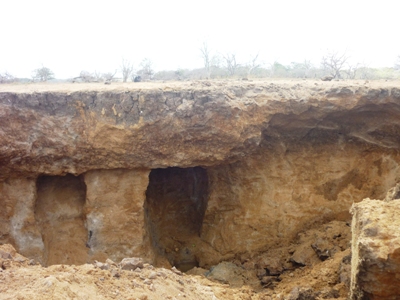 reveal the relationship to him.
Dissanayake also admitted that his 'relative' had obtained the land situated in the  fishing village when the lands were being distributed among the fisher folk.
"What is wrong" asks Berty
"So what is wrong in getting a plot of land to build a house for his personal use from this fishing village? Whether my relative belongs to the fishing community or not is irrelevant to get a land. Why do you want to know whether this land belongs to me? As I told I do not have any involvement in this issue other than my relationship to the land owner. Who says that he cannot get a land and build a house to live in?
"Who are you to question a respectable politician like me"
"Don't you journalists have any other issues to highlight in the media than trying to sling mud at us? I am not bound to answer you. Who are you to question a respectable politician like me? You people wants to know about our private lives – whether we are carrying out any illegal affairs, engage in illegal work or how we make money. We know how to manage our private affairs don't try to sling mud at us," said Dissanayake disconnecting the phone call abruptly.
Words come back to haunt Berty 
Although Dissanayake claimed that he has no connection to this construction or to the property in an interview with the state controlled Lake House Publication- The Daily News published on September 4, 2008 he is quoted by Nimal Wijesinghe Lake House Additional District Group Correspondent, Anuradhapura, as clearly stating that it was indeed he who was constructing a house in Kalawewa on a land owned by him.
The interview published states:
"There was the other allegation that I have been erecting a grand tourist hotel on the banks of Kalawewa tank consisting of 150 rooms having encroached 15 acres from the tank reservation.
"I said I am constructing a house in Kalawewa consisting of four bedrooms in a little plot of land legally owned by me for my family and that is the whole truth. People believe me and dismissed these allegations" – Daily News, 4 September 2008
Minister Chandrasena says….
Meanwhile former Minister of Agrarian Services and Wildlife  S.M. Chandrasena who was on
Friday September 5th, 2012 ironically re- appointed not as Minister but as Deputy Minister of his former ministry –  Agrarian Services and Wildlife – denied any involvement in constructing a hotel overlooking the Balaluwewa in Gamsabhagalmillewa area.
"I have no connection to such a project nor have I allowed any of my supporters to trespass a sanctuary," said Chandrasena.
Chandrasena denied he had instructed one of his ardent supporters Mr. Kumara- the owner of Shan Pharmacy in Galnewa to construct the hotel on his behalf.
The construction is still in its primary stages say eye witnesses.
"He is one of my good supporters. He has helped me and my brother during election time. We meet very often and discuss the shortcomings in the surrounding areas. Other than that I have not helped him to build a hotel within the sanctuary," said Chandrasena.
Denial is best
Mr. Kumara however asserted  he had no connection with the Chandrasena family whatsoever a claim other residents in the area say is a lie.
"I know that he is a political leader in this province. But other than that I have not met him nor
have I spoken to him," said Kumara.
With the owner's identity getting murkier every minute and with each passing the buck, Mr Kumara also asserted that infact he was merely helping Mr Abeysiri a disabled gentleman to construct the house.
"Why do you want to ask these questions from me? Can't I help any person I wish?" queried Mr.Kumara.
Despite these denials reliable sources from the Ipalogama Divisional Secretariat, on condition of anonymity confirmed that Mr. Kumara has received the full backing of Deputy Minister Chandrasena for a hotel project.
Sources confirmed that though the land was in fact once owned by Mr. Abeysiri's father it was  sold to Mr. Kumara a few years ago for Rs.5 lakhs. Mr. Kumara's name appears on the electoral
list under the physical address of this land.
"People are scared to open their mouths in fear of these politicians knowing well what the consequences would be. Not only do the ruling party politicians violate law and order but allow their henchmen too to enjoy all these powers," residents in the area said.
Mahaweli Authority falls foul of the law
Meanwhile Resident Project Manager Mahaweli Authority- System 'H', Mr. R.B. Sirisena and a few of his officials too have come under severe criticism for illegal sand mining in the Balaluwewa tank recently.
Sirisena is accused not only for sand mining for his personal benefit, but giving illegal approvals to Berty Premalal Dissanayaka's political supporters for sand mining.
Dodgy letters of approval
This website is in possession of letters Mr. Sirisena has sent to the Geological Survey and Mines Bureau (GSMB) seeking approvals for one Mr.  A.C. Palipana for sand mining in Balaluwewa tank.
Not only these letters are without any dates, Sirisena has also put his signature and the official seal instead of the Divisional Secretary's signature.
Mr. Sirisena when contacted rejected his right of reply declined to comment and refused to provide any details over the phone.
Susantha appalled that Sirisena has signed for him
Meanwhile Susantha Jayathilake Divisional Secretary Palagala confirmed that Sirisena had indeed signed the letter on his behalf without his knowledge and without permission.
"Yes even I have come to know about Sirisena putting his signature in my place. I am yet to get the document to decide as to what action could be taken against such law breakers," said Jayathilake.
Serious offence
According to Jayatilleke, only the Additional Divisional Secretary is allowed to sign on his behalf but added that there were instances where he had to give express permission to his Administrative Officer to sign on his behalf if the Additional Secretary too was not available.
"This is a serious offence," added Jayathilake.
Conscientious officer
Many officials in the Wildlife Conservation Department are trying hard to do their duty despite
political pressure. One of those officers is Mr. L.M.D.L. Lionel – a Wildlife Ranger from  Meegalewa, Galgamuwa who told this website he had to chase away illegal sand miners including an Assistant Engineer of the Mahaweli Authority one Mr. Nadunge on September 24, 2012 while they were illegally mining sand at Balaluwewa tank.
Lionel – a ray of hope for the area 
"I was attending the Kalawewa Committee Meeting on September 24 around 11.30 am when I was told that sand mining was taking place in close proximity. I proceeded to the area and saw several people mining sand using backhoes while the entire proceedings was being supervised by Assistant Engineer Mr. Nadunge. When I asked for the mining license, a GSMB license was produced. Since this is a wildlife area and the GSMB has no power to grant any permission for sand mining without the land owner's approval I chased all of them away. We are on alert to find out whether such illegal activities are taken place," said Lionel.
We contacted Assistant Engineer Mahaweli Mr. Nadunge who declined to comment on the matter or provide an explanation for his involvement in illegal sand mining.
"I am busy shall call you later," Nadunge said, but never did.
Meanwhile Registrar, Mineral Titling GSMB, K.A.P.H. Liyanaarachchi told this website that on the recommendation of the Mahaweli Authority, a sand mining license was given to Mr. Palipana.
"This land does not belong to the Department of Wildlife but to the Mahaweli Authority. That was why we issued the license," Liyanaarachchi said.
The Department of wildlife strongly disagrees.
Meanwhile Sri Lanka continues to be ravaged by politicians and for them whether the land belongs to one state run department or the other is of no consequence. As members of the ruling party they control the  power, they control the land and they control the people.
Photos by Kushan Jayawardena
Environment